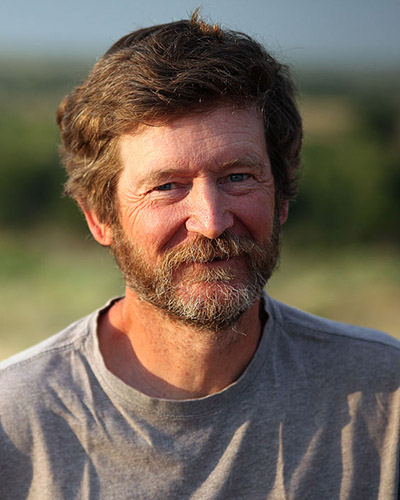 Leland has been with the Survey for 20 years. Significant research projects include the 10,500-year-old Cooper bison kills and the 10,800-year-old Jake Bluff bison kill.
Education:
Ph.D. from the University of Texas at Austin in 1991
M.A. from the University of Texas at Austin in 1986
B.A. from Fort Lewis College, Colorado in 1979
Specialization:
Paleoindian studies, Animal bone identification, Hunter-gatherer adaptations, rock art, stone tool technologies, and paleoenvironmental reconstruction.
Publications:
2 books, including one on the Cooper site
48 journal articles and numerous other research reports
Much of this work has been funded by Historic Preservation grants, the National Geographic Society, the National Science Foundation, as well as from private donations.
Tribal workings:
Cheyenne-Arapaho, Apache, Comanche, Kiowa.
Classes at the undergraduate and graduate level include archaeology field schools, archaeological laboratory techniques, animal bone identification, and human mobility and sedentism.
In addition to being a Research Archeologist at the Survey, Leland is an Adjunct Associate Professor of Anthropology and Graduate Faculty member at OU, Adjunct Full Professor of Plant and Soil Sciences and Graduate Faculty member at OSU, Stillwater, and a Research Fellow at the Museum of Texas Tech, Lubbock.