Holly Woodward Ballard, Ph.D.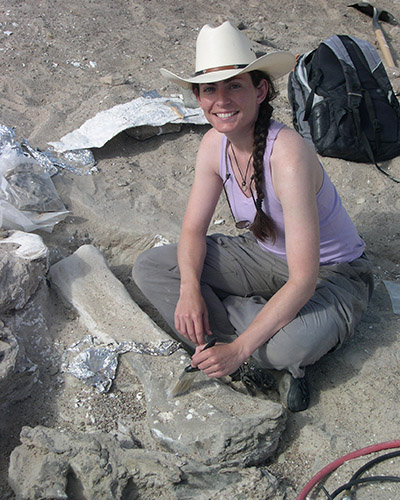 Holly Woodward Ballard, Ph.D.
Holly Woodward Ballard is a paleohistologist and studies fossil bone tissue microstructures to understand the growth and development of extinct animals. Specifically, she makes use of large-sample osteohistology to assess growth dynamics, individual variability, and survivorship in dinosaurs and other extinct vertebrates while utilizing the bone microstructure of extant vertebrates to provide a framework for paleohistologic inferences. Her interests led to fieldwork in Mongolia and Australia, as well as to ongoing fieldwork in North America.
As an undergraduate, Holly majored in Geology with a paleontology concentration at North Carolina State University. She was introduced to the field of paleohistology while a graduate student at Texas Tech University, resulting in her M.Sc. thesis describing the bone microstructure of the sauropodAlamosaurus. In 2012 she received a Ph.D. in Earth Sciences from Montana State University. While at MSU, she studied histologic variation in archosaurs, with particular emphasis on the growth history of the dinosaur Maiasaura.
After spending a year as Paleontology Collections Manager at the Museum of the Rockies, Holly joined the faculty of Oklahoma State University Center for Health Sciences as Assistant Professor of Anatomy. She holds research affiliations at the Museum of the Rockies and Sam Noble Oklahoma Museum of Natural History.