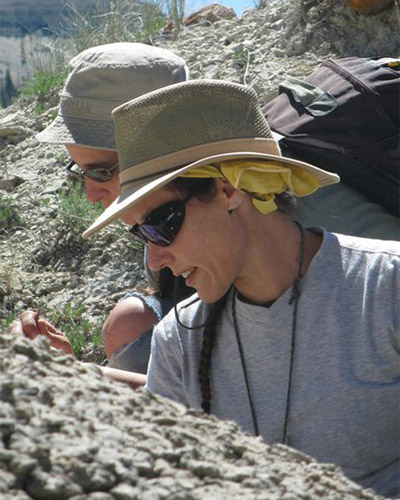 Anne is an advocate of inclusivity in the sciences and of projects involving citizen science. Her first involvement in a science project as a child was catching and tagging Monarch butterflies on their Fall migration, as part of an enormous study run to discover the overwintering area of the Eastern North American population.
Eschewing entomology, Anne is now a vertebrate paleontologist, researching mostly the extinct mammalian group Multituberculata and also biotic recovery from mass extinction events in Earth's history. She is also at least a little interested in all things Mesozoic and has worked extensively in the Late Cretaceous age (110-66 million years old) sediments of North America. Current projects include excavation of a dinosaur-bearing site in the Morrison Formation, which is about 150 million years old.
Anne's teaching responsibilities are diverse, including Medical Gross Anatomy, Statistics, and field methods in Paleontology. She is currently an Associate Professor at Oklahoma State University Center for Health Sciences and an Affiliated Research Associate at the Sam Noble Oklahoma Museum of Natural History.
Her education followed a less straight line than many, as she received an A.B. in English and American Literature and Language from Harvard College in 1988, an M.A. in Geological Sciences from the University of Texas at Austin in 1992, and a Ph.D. in Integrative Biology from the University of California, Berkeley, followed by postdoctoral research in Duke University's Department of Biological Anthropology.